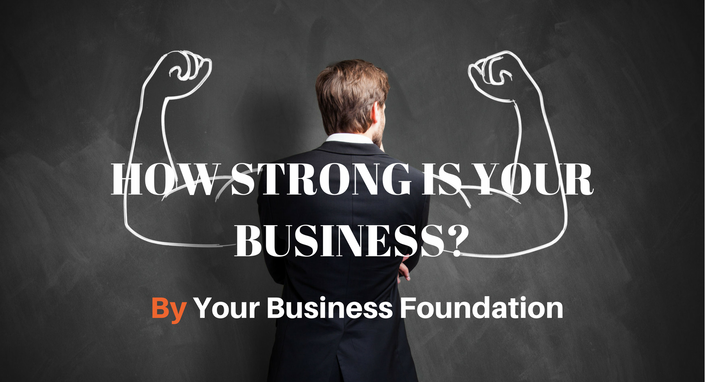 How Strong Is Your Business?
Learn what it takes to make your business strong and assess just how strong your business is.
Most Businesses Fail Because They Are Simply Not Strong Enough. Learn how to make your business strong enough to achieve long-term success and give you all you dreamed it would.
Growing a business is hard and probably a lot harder than you thought it would be when you first started out.
For many business owners, it feels like this…Everything takes longer than you anticipate. You work far more hours than you did when you had a job. You face challenges and set-backs that you weren't prepared for. You're tired, you're stressed and there's no light at the end of the tunnel.
Despite your best efforts your business seems to just get by and each year isn't really any better than the previous one. And to add insult to injury you see others seemingly getting it right and going from strength to strength.
Does any of that sound familiar?
So, why is it so hard?
What's going on?
You're not stupid, you're not lazy, you know others benefit from what you have to offer and that your products and services are as good as if not better than that competitor across town who just seems to be doing really well.
Well, here's what's not going on…these others that are making it work 'ain't any smarter, or luckier or better looking.
And it's not about getting a lucky break or being in the right place at the right time. And it's not about 'if onlys'. If only…
I hadn't lost that key client;
Legislation hadn't changed in my market place;
I'd done that trade show to attract more prospects;
We hadn't had that family illness that pulled me away from the business;
If only. If only.
Now, here's the thing.
All those "if onlys" - all those so-called reasons for why businesses struggle and fail - aren't actual reasons. They are symptoms.
They are the result of something not working in your business as it should.
Work back from the 'reason' and you will find fundamental root causes – fundamental weaknesses - behind every single one.
A strong business finds a way to eliminate those fundamental weaknesses – the root causes for why a business struggles.
Or more to the point, by eliminating these fundamental weaknesses a business becomes strong.
And once a business is 'strong', once it has eliminated these fundamental weaknesses, it will enjoy far better returns for the same effort applied.
The stronger you make your business the more you will achieve, the better your results will be and the more your business will grow for the same or even less effort you put into it.
And this is because you will:
Spend far less time in your business reacting to issues because you will have eliminated most of them;
Better overcome any challenges you do face;
Be more strategic and focused and hence achieve bigger gains;
Be more relaxed, confident and in control.
You will drastically reduce the negatives and massively increase the positives.
As with most things in life, positive gains don't happen by accident or just because you want them to – they take hard work and focused effort.
Your business is the same – it won't be strong enough to succeed by accident. If you haven't consciously worked on making your business strong then it is almost certainly not strong enough. It has fundamental weaknesses that need to eliminated.
If you want your business to succeed, it must be strong enough to do so – it must be rid of those fundamental weaknesses.
So, as well as trying to make sales, you must also focus on identifying and eliminating these weaknesses once and for all. Until you do, your business will always be vulnerable to unexpected hazards and setbacks.
In this course, How Strong Is Your Business, I will show you how to identify and eliminate these fundamental weaknesses and in return how to make your business strong.
Now, there are 4 key ways in which your business needs to be strong and if any one of these 4 isn't strong enough then fundamental weaknesses will still remain in your business.
Your business needs to have:
Strength Against Harm – You are prepared for the hazards that lie ahead and you know how to avoid them or eliminate them. Without the resilience that this strength gives you, your business will be more easily knocked off course and will take longer to get back on course.
Strength in Control – You are able to keep your business on course and steer it to the destination you have set. Without this strength your business will lose its way and at best get by but never reach its full potential.
Strength of Purpose – You know where you want your business to be and how to get there. Without this strength, you will waste time, resource, money and energy meandering towards distant, unclear goals instead of being focused on reaching clear, ambitious goals that propel your business to the next level.
Strength in Motion – Your business works efficiently and effectively for you. If you work hard in your business reacting to problems, issues and demands, just to keep things working, then it's not working for you and you can't step back and be in control of your business.
You can probably see how these 4 key areas of strength work together to make your business as strong as it needs to be to grow and succeed.
It's never too late to start making your business strong enough. It starts with you deciding that you're going to do this and then committing the time and investment to do it.
Having made that commitment, where do you start? How do you identify where your business is potentially weak and vulnerable? What do you look for? How long will this take?
Well, do this yourself and you will get eventually get there, but it'll take more of your precious time than you can probably afford to give, your focus will suffer because of all the other demands on you and you will risk missing something that could prove harmful later.
So, here's more good news!
I've created a 'health-check' tool that will show you where your business is strong and where it is potentially weak and vulnerable. And, instead of trying to figure out what you need to do and what you should be looking for this tool will show you and you'll have your results in around an hour.
The Business Foundation Health Check Tool will take the guess work out of trying to assess how strong your business really is today.
By scoring you and your business against over 100 statements you build a picture of your business' strengths and weaknesses. Automatically generated charts will clearly highlight these strong and weak areas so that you can exploit the former and address the latter.

Using this tool, you will see exactly where you need to focus your efforts to make your business strong. You'll be able to prioritise your efforts so that you'll quickly start to strengthen key areas of weaknesses and eliminate many hazards and risks that would exploit those weaknesses.
A strong business has every chance of success. A weak business is pretty much guaranteed to struggle and eventually fail.
Is your business strong enough to get to where you want it to be? Now is the time for you to decide. I say now, because it's not one of those things you can really put off.
If your business isn't strong enough then, in some way, it is vulnerable and every day that you don't address this is another day that your business could suffer a real setback that you may struggle to recover from.
Forgive me if I've come across a little doom and gloom but I've helped too many business owners who have needlessly struggled for years because they didn't do this.
So, if you want to make your business strong enough for the journey ahead then this course and my health check tool is for you. And it's especially for you if:
Your business is flat;
You are busy in it but struggling to get anywhere;
You are stressed about what lies ahead;
You have any doubts at all that you can make your business the success you always wanted.
Do this now and make sure that your business stops being vulnerable to being knocked off course by:
Risks that you haven't identified;
Lost business that you weren't prepared for;
Competitors that pull the rug from under you;
Shiny objects that distract you;
Being busy in your business but achieving little.
Here's everything you'll get when you enrol in the How Strong is Your Business? Course.
10 videos covering how you make your business strong and how to use the health check tool to assess the strength of your business
The Business Foundation Health Check Tool to thoroughly assess your business.
Frequently Asked Questions
When does the course start and finish?
The course starts now and never ends! It is a completely self-paced online course - you decide when you start and when you finish.
How long do I have access to the course?
How does lifetime access sound? After enrolling, you have unlimited access to this course for as long as you like - across any and all devices you own.
What if I am unhappy with the course?
We would never want you to be unhappy! If you are unsatisfied with your purchase, contact us in the first 60 days and we will give you a full refund.
It doesn't matter what tactics you try to grow your business if it isn't strong enough to handle the hazards and obstacles that lie in wait, if it doesn't know where it's going and how to get there, if it needs you in it daily to spin plates and if you have no control over its direction and fortune.
Don't hope your business is strong enough to get you to where you want it to be. Make sure it is.
Start to strengthen your business today so that it achieves all you want from it tomorrow.